Thank you, Adopters!
---
Clover & Ivy
My boyfriend and I have had a blast with our sweeties Ivy Marie and Clover May since adopting them in April 2012. As first-time bunny owners, we were grateful that Red Barn Rabbit Rescue had so much great advice to share with us. With their guidance, we decided to adopt sisters. Ivy and Clover love cuddling and grooming each others' ears, and we are happy that they have such a great bond. It has been such fun getting to know their personalities. They are quite the explorers, and in the mornings and evenings they love to romp around the living room, do their binkies, and generally act goofy. Somehow they have learned to turn the stereo on with their feet, and recently they have started to hop into my lap for Craisins! They get more and more adorable each day, and we think Red Barn Rabbit Rescue for helping us find such a wonderful addition to our family.
---
Annie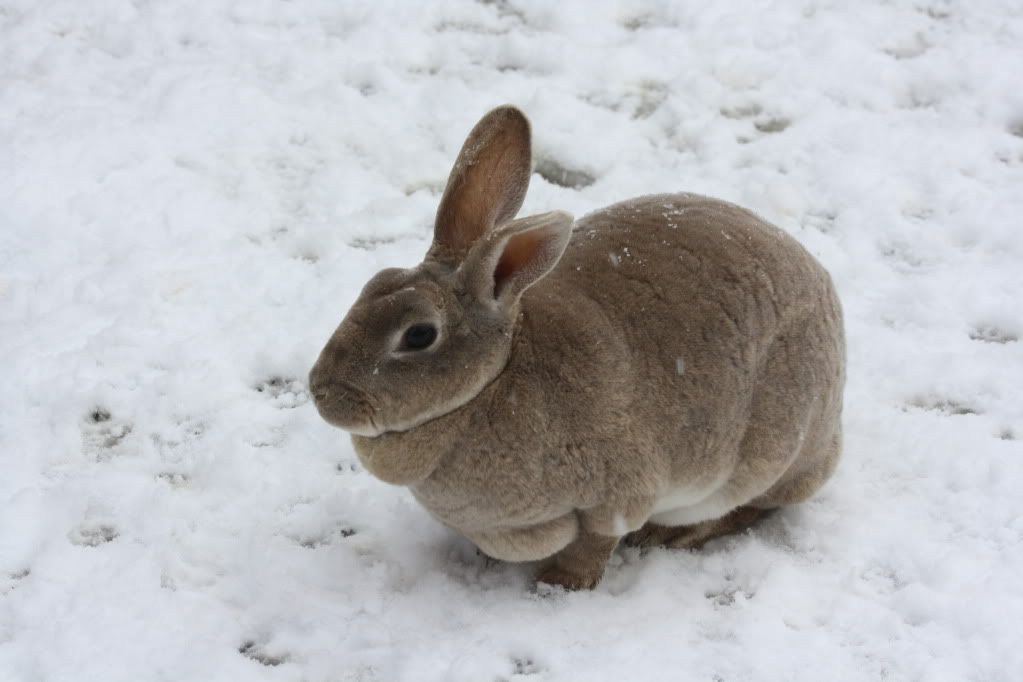 Heather and Alex,I want to thank you so much for everything,you guys are doing a great job.it definitely takes special people to do something like this.your hard work and dedication will surely pay off.
---
Dirty Harry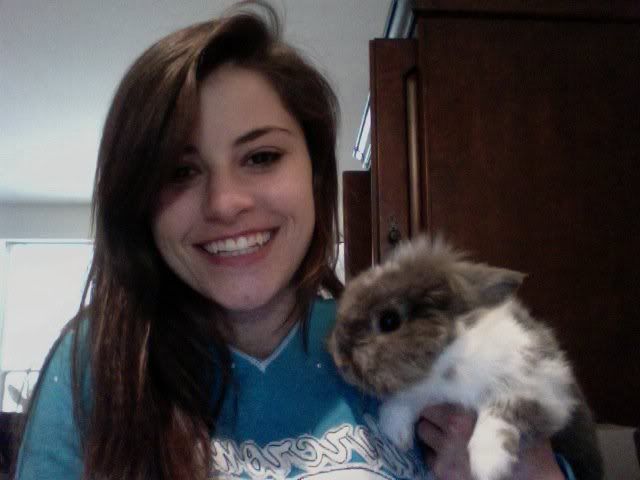 He's doing alright! Still a little hesitant and he doesn't really know what to think, but he seems to be settling down and feeling more comfortable. He really loves hiding behind the couch where no one can get to him haha. It was funny because we blocked it off so he couldn't get under and he sat in his cage and pouted and refused to come out.
---
Brandy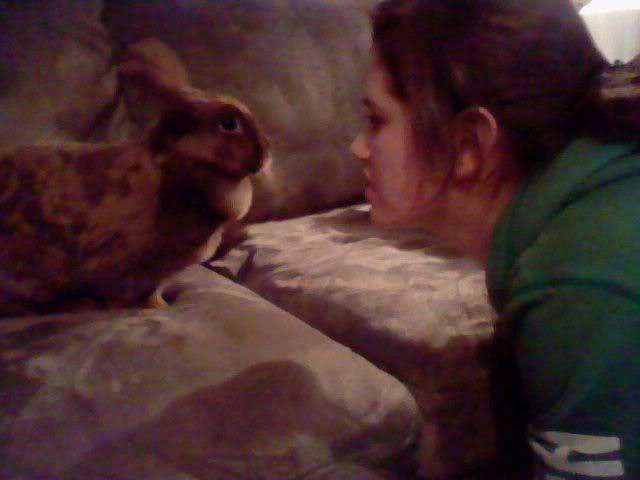 I thought you guys might like a little recap of Brandy's first week! She stayed in her cage for about two days, but now every morning when I get ready for school, she hops around or sits in my lap. She has yet to pee on me, so that's good. After school I clean out her cage because she likes to be clean and get out of her cage for a while haha. Sometimes she gets a hold of my bathrobes and makes them into cute little beds and she lays there for a while. She's eating well and using her litter box. She's been very sweet. Her and my cat have sniffed each other but the cat runs for the hills whenever Brandy moves. My dog (lhaso aphso) just loves Brandy, she sits on my bed and watches Brandy as she hops around or even if she just lays there. I'm very happy about Brandy being in my home. I thank both of you so much!
---
Chloe & Dana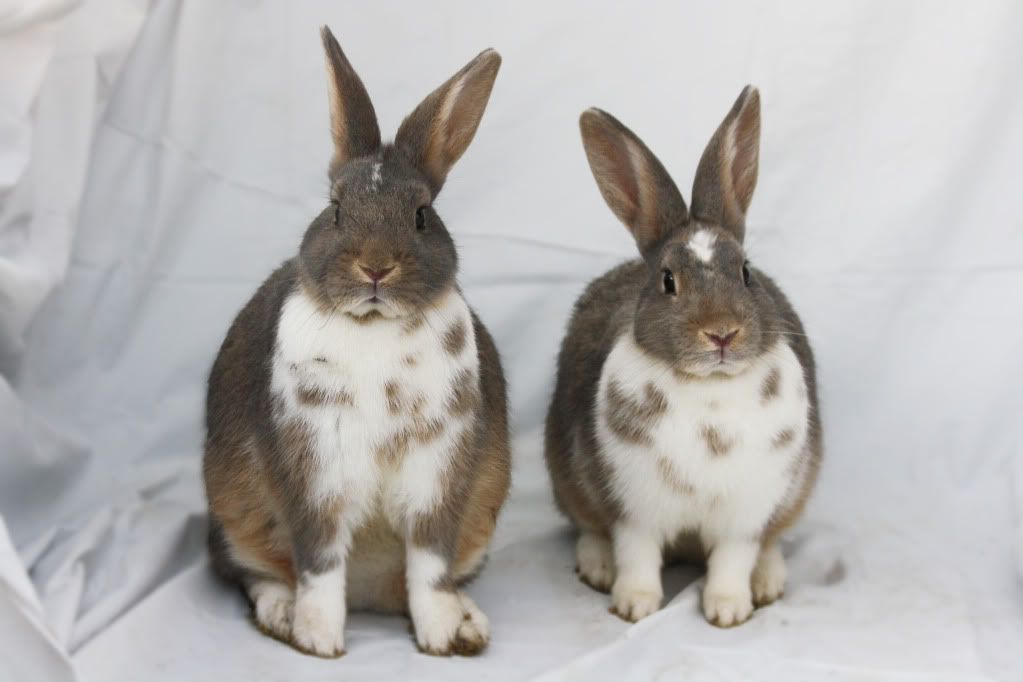 Yes, I think they are though Chloe still refuses to eat any treat from my hand. She instead takes it away from Dana. Chloe does enjoy pets from me so the resentment doesn't run too deep. Grandson John would stand on the stepstool all day to pet them. Granddaughter Phoebe has decided they're scary...go figure...that will probably pass.
---
Dr. Sweets now Zipper


This is Sweets aka Zipper. I adoted him last Wednesday from Red Barn Rabbit Rescue. I'm so happy I did he's a great Rabbit very sweet & lovable. He's getting use to his new home now & getting a little bit spunkier every day..lol. I Love My Sweets!!!! =)
---
Sayda
Message from RBRR: Sayda was one rabbit we thought would be with us for the rest of her life. She came to us with many health and behavior issues and we know it's hard to place these rabbits. We fell in love with her and should have expected someone else with a heart as big as ours would too. She is now in the greatest of hands and is being loved for who she is. Thank you, Evelyn!
---
Lincoln
now
Otto
"He's becoming really friendly and lovable... Cuddles up next to us a lot and seeks our attention... Made a "friend" with a bear shaped piggy bank that he's been taking his "male frustrations" out on... Pretty hilarious!! We love him, he's awesome!"
---
Nubbins
now
Milo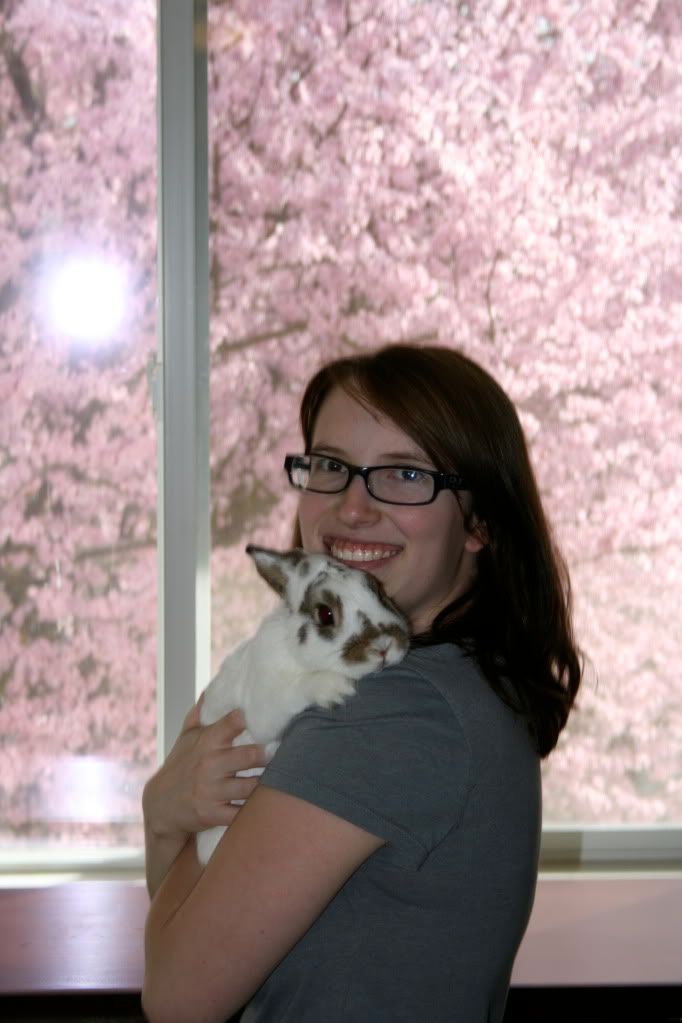 "Nubbins has been renamed to Milo, although I will always call him Nubs. Everything is going well, I'm enjoying learning his quirks and basically watching him be a bunny. My cat adores him and they will sniff each other when he gets out of his cage to hop. He's a pretty wonderful little fellow."
---
Mia
now
Fiver
"Hey guys! I have some pretty cute pictures of my bunny, which I have re-named Fiver from the book Watership Down. Fiver seems to be really happy with us. She loves all the space to run around and explore and she LOVES all the other animals we have here, especially the cats. Night time is her prime time, shes always playing with her toys, and just running in circles all over the place and going crazy. When shes calm shes proved herself to be a real sweety, shes a huge cuddle bug and loves loves loves kisses. shes also a traveling bunny, if i go to run a quick errand she'll come with me in the car, she likes to just perch on my shoulder and enjoy the ride. The whole family has fallen in love with her and i think its a perfect fit for fiver. Thank you so much for all you do!"
---
Peyton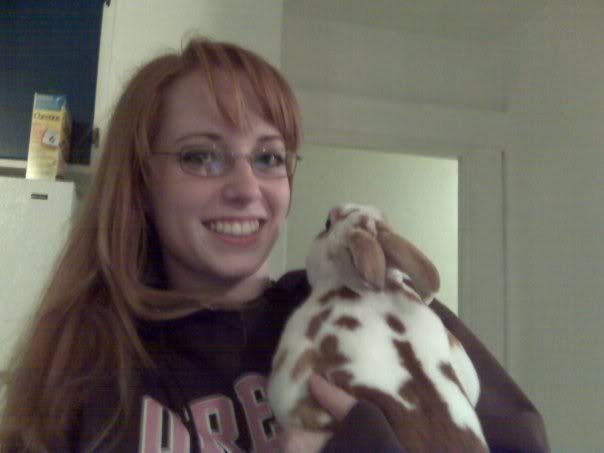 "I haven't updated you guys on Peyton in a while, so I thought I would let you know how he has been doing.
He is super friendly all the time now, and will run up to my boyfriend, my roommate and I for pets on his head. He will even nudge our hands with his nose and wait patiently for pets when he thinks we aren't giving him enough attention! He also has a stuffed carrot I bought him -- they're made just for rabbits, it's really cute! I don't know if I have told you about it or not. He drags his carrot around with him everywhere. If he is out of his cage, he will drag it out and lay on it, and when he goes into his box he brings it into his box with him. He has also just recently started jumping onto my bed when I'm reading up there, when I let him out in my room. When I'm reading, he will jump up next to me and then flop over and just hang out with me, it's super adorable."
---
Miss Max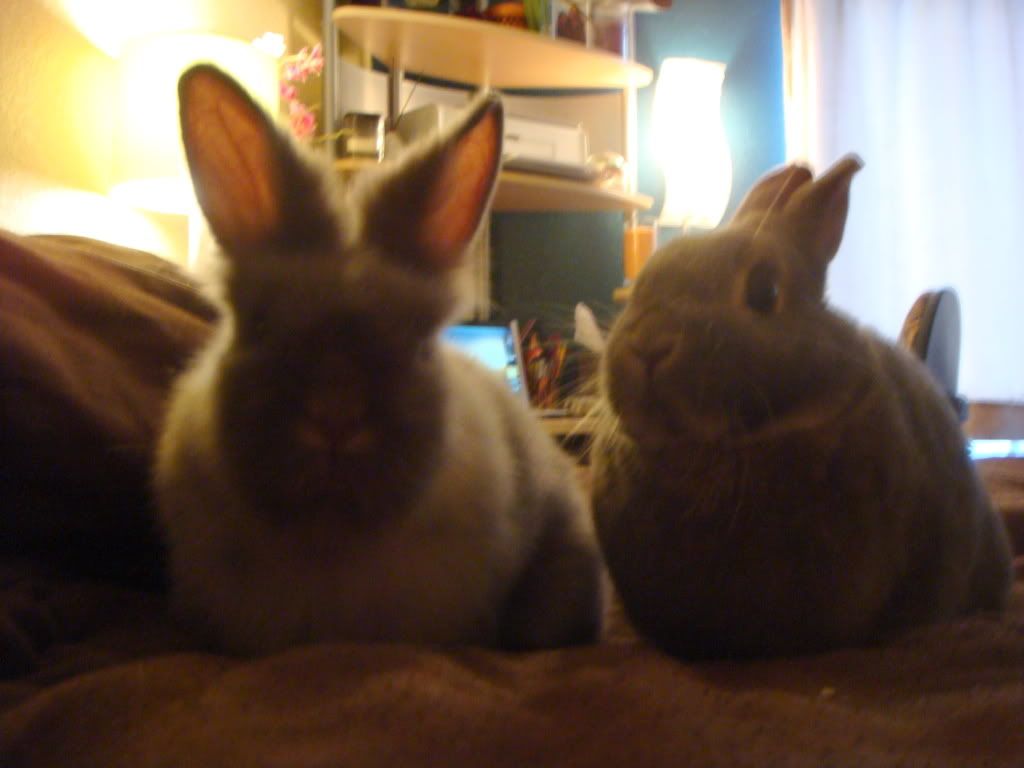 "Miss Max is doing great! Everything with her has been going great, her back feet and toes aren't having any problems and she takes getting her nails trimmed very well. Her and Licady are absolutely adorable together, they love "grooming" each other and now seem to have quite the bond :)"